Do you enjoy soya bean drinks and related products?
Do you have the Passion and Commitment in starting your own business or bringing Mr Bean to your country?
If your answer to the above questions is a resounding "Yes!", we invite you to take the first step towards being part of Mr Bean family.
The leading soya food and beverage retail chain in Singapore, Mr Bean has enjoyed success and growth since inception in 1995. As of 2014, more than 80 million cups of our much beloved soya beverages are sold across the region!
With more than 60 stores in Asia, Mr Bean aims to inspire and touch lives by bringing life's simple pleasures to consumers of all ages through our freshly prepared soya bean food products. We are currently seeking compatible enterprises to be part of our growth and looks forward to working with like-minded partners.
Mr Bean is totally committed to quality, innovation and customer service. Our dedicated team continually innovates and introduces new food culture with ingenious differentiation and of the highest quality. Backed by our distinctive brand, successful retail concept and delicious new products that make your day, Mr Bean is poised to expand our global footprints. We are confident that our franchisees will be able to tap on our distinct competitive advantage and platform for growth!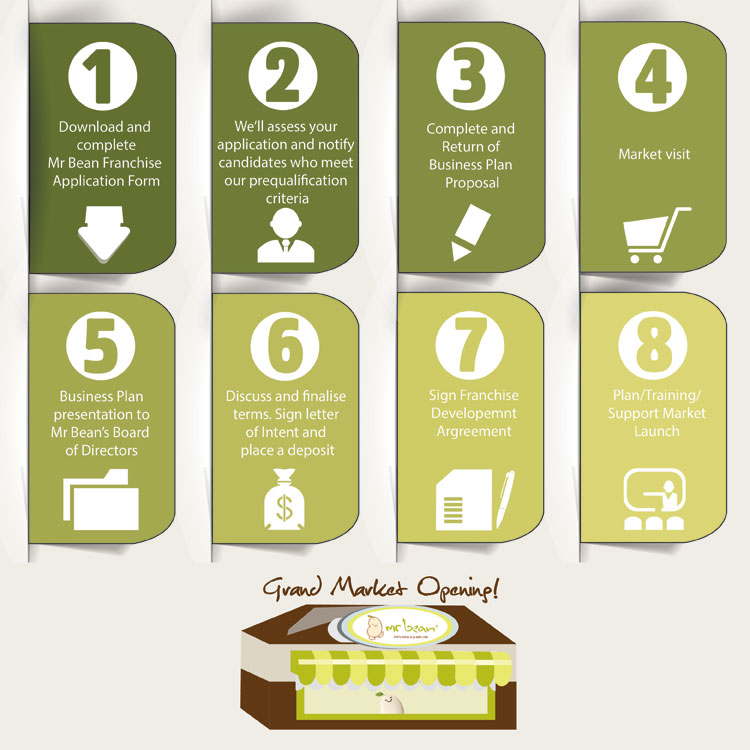 We welcome all enquires! Simply contact us at:
Tel: (+65) 6844 2298
Fax: (+65) 6513 2843
Mr Bean Franchise package provides on-going support in areas including, but not limited to Training, Store development and design, Operations, Marketing, Logistics and Financial analytics. Our operating manuals will also be on loan to you.